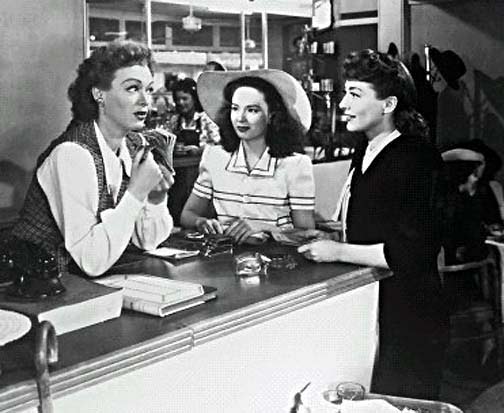 I thought my mom and I fought! Boy, Mildred Pierce (1945) really opened my eyes to some seriously screwed up mother/daughter relations.
Directed my the "genius of shadows" Michael Curtiz, this movie is the story of titular character Mildred Pierce, played amazingly by Miss Joan Crawford. After she splits from her unfaithful husband, Mildred does everything in her power to give her daughters the wealth, security, and (most importantly) the social standing that it is implied Mildred had as a youngster. This is especially applied to the older daughter Veda (Ann Blyth). Veda is a spoiled brat whose actions repeatedly tear down the boundaries of what normal people would consider rational behavior.
The film opens with a murder. It looks as though Mildred has committed it, and she begins telling the story in great detail to the police after they conclude that the murderer is her ex-husband. She insists that it is not, and the flashback that we believe to be a very detailed confession reveals the true killer. Of course, I won't tell you who did it, but I will tell you that they wait until the last possible second to tie up the loose ends. It was nerve wracking for me, but apparently that is the favorite method of early to mid-forties cinema (See my review of The Major and the Minor and Double Indemnity, among others).
I could go on and on about how much I loved this movie. It kept me completely enthralled thanks to brilliant jobs by Michael Curtiz, Joan Crawford (in a well-deserved oscar-winning performance), and one of my favorite second-men Jack Carson. Even though there is a different cinematographer than Casablanca, Mildred Pierce features similarly stunning lighting and shadows that radiate in black and white. Movies like this make black and white sparkle.
The music by Max Steiner is, as I expect from Steiner, wonderful (after all, he blessed us with King Kong and the early Fred and Ginger musicals!). I can't remember specific instances where it was remarkably clever, but that's probably because it's been a week or so since I've watched it.


I just realized that I had forgotten to mention Eve Arden and her wonderfulness. I love her so much! She, as always, delivers the perfect wisecrack in Mildred Pierce.